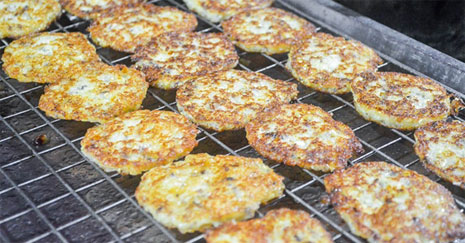 Sweet and yet savory, this pancake is something you will chance upon and will be pleasantly surprised during your street food hunting.
2. Seafood Pancake
Cooked in a pan similar to the Takoyaki, the Thai seafood pancake has the texture similar to an omelet. The pancake has a crunchy bottom and often topped with seafood like shrimps, crabs and octopus.
Don't like seafood or prefer vegan? Try coconut pancake. It's called Khanom krok in Thai and made with flour, coconut milk and lots of sugar in a pan that shapes them into half-spheres, a little crispy on the shell but is soft and gooey inside. Sweet and creamy, they are plain or come with adds-on (corns, spring onions, taros, and pumpkins) at your choice.
3. Tapioca Pancakes
Most tapioca pancakes in the night markets come in the forms of a little muffin shape but not this flat tapioca pancakes, especially the ones at Kanchanaburi Night Market. The pancakes are chewy and not overly sweet, yet so good that you might want to come back for a second serving. Do give it a try if you are at Kanchanaburi Night Market!
4. Deep Fried Pork & Chicken
Ranging from pork knuckle to pork cheek meat, you will be spoilt for choices. Don't forget to order a glutinous rice at only 5 Baht to accompany the crispy meat.
Similar to the deep-fried pork slices, the chicken version can also be found at the night market. Fried chicken is typically prepared by marinating chicken wings or drumsticks in a blend of spices and rice flour before deep frying the whole mixture. The chicken is often finished with Thai chilli paste or served with a spicy dipping sauce for a little extra flavor. Enjoy your fried chicken with a bag of sticky rice.
5. Porkballs
Priced at 5 Baht each, porkballs can be eaten as snack or as a light meal. This stick of porkballs dipped in spicy sauce is something that you should not miss during your visit to the night market in Thailand.
6. Sour Pork
The pork is usually marinated with garlic and other spices like kaffir lime leaves, lemongrass, galangal, and often red chili paste as well. They can be a bit naturally sour and are eaten with raw cabbage, bird-eye chilies, and sliced ginger. Wrap them all together and pop in your mouth, and expect an explosion of extreme Thai flavors.
You can find the sour pork in almost all of the night markets and street stalls in Thailand, so it is worth a mention.
7. Quail Eggs
Unpretentious fried quail eggs, something to munch on while you browse.
8. Seafood Omelet
One of the cheapest dishes you'll see served at most food stalls is a Thai omelet served over rice. Thai omelets are made a little different from the Western counterparts; the dish is usually cooked with fish sauce and chilies, and topped with chili sauce. It can come with extra veggie fillings or seafood.
The inside of seafood omelet is fluffy like a standard omelet, but the outside is golden and crispy. Cheap and tasty, don't miss it!
9. Look Choop (Thai Mung Bean Dessert)
Not a new thing for some Singaporeans, this Look Choop (also called Luk Chup Candy) is a Thai dessert in the shapes and colors of fruits and vegetables. It has a Mung bean filling which is surprisingly going well with a hard-gelatinous coating.
10. Mango Sticky Rice
Mango sticky rice is one of the most famous street foods in Thailand, made with sticky rice, fresh mango slices, and coconut cream syrup. But, Kanchanaburi Night Market has the mango sticky rice which gives you a choice of coconut flavored rice, pandan flavored rice and even pumpkin flavored rice. The sticky rice absorbs the coconut cream, creating a pleasantly soft texture and mild sweet taste.
11. Khanom Buang (Thai Crepe)
Nicknamed sweet taco, the folded crispy crepe is about 3-4 inches in diameter. This cute mini crepe might be a little bit different with the one you have at the bakery before. The batter of the crispy crepe is made of flour, egg, and sugar, then cooked on a griddle until it turns golden brown. The soft meringue-like cream (made of egg white and sugar) is filled on top, with a choice of either sweetened or salted coconut shreds. Only at 5 Baht for a piece. Go for as many as you can eat!
Conclusion
The line between street food and a sit-down meal is often quite fine in Thailand. Though a bit small as compared to the night markets in Bangkok, Kanchanaburi Night market is a small yet vibrant place to visit at night. With opening times from 6pm–10pm, the night market is located right outside of the Kanchanaburi Railway Station, so it's pretty easy to find, and you can easily spend a couple of hours walking around the place. Having its fair share of food and shopping, it is a perfect location for some inexpensive yet very good local foods for dinner and desserts.
​
แหล่งที่มา
https://onestep4ward.com/things-to-do-in-kanchanaburi
https://thecastienco.com/things-to-eat-at-kanchanaburi-night-market-jj
https://www.bangkokfoodtours.com/10-best-thai-street-snacks-must-try
https://www.planetware.com/tourist-attractions-/kanchanaburi-tha-kc-kck.htm
https://theculturetrip.com/asia/thailand/articles/14-mouth-watering-thai-street-foods-you-ll-love
BETTER-22-23-goodtimesriverkwai_com
11 Must-Try Foods at Kanchanaburi Night Market​
The home of the Bridge on the River Kwai, Kanchanaburi city is a microcosm of what makes Thailand such a fascinating country. Lush tropical wilderness areas are well blended with historical sightseeing opportunities for nature lovers. Several national parks lie in the surrounding area, with opportunities to see stunning waterfalls; impressive cave systems; and a diversity of wildlife. Located only a two- to three-hour drive from the big-city attractions of Bangkok, this paradise for nature lovers is easily accessible via bus or train.
For foodies Thai food culture is lively, communal, and rewards those who are willing to take risks with new dishes. And, any trip to a local Thai town is not complete without an evening spent wandering around a night market. Ever wonder what to eat at Kanchanaburi? We got you covered!
We have compiled 11 must-try famous street foods at Kanchanaburi night market which is also known as J.J. Night Market.
1. Corn Pancake