2. Stir Fried Squid with Salted Duck Eggs / ปลาหมึกผัดไข่เค็ม
A delicious traditional stir-fry. The squid provides a fresh oceanic flavor while an enticing saltiness and body from boiled and salted duck eggs balance the dish. Shallots and greens compliment this delightful dish.
3. Fillet Steak / ฟิลเล็ท สเต็ก
Our take on a western classic. Grilled, high-quality beef steak served with gravy. It comes with mixed salad and fries.
4. Burmese Curry / แกงพม่า
Enjoy a classic Myanmar curry. Tomato paste, turmeric, and fire roasted tomatoes make the base for this hearty dish. Traditional and full of flavor.
5. Deep-Fried Fish with Mango Salad & Fish sauce / ปลากระพงสองใจ, ปลาทับทิมสองใจ
Deep fried, fresh-caught local fish with a bright, sweet and spicy mango salad with fish sauce. Crispy skin and tender meat characterize one of Thailand's most popular dishes.​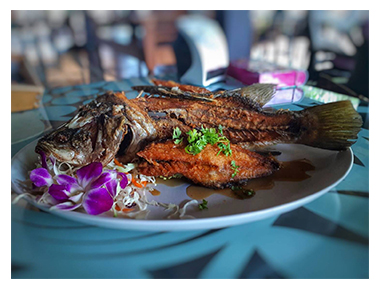 6. Banana Ball with ice cream / บานาน่าบอลไอศกรีม
Banana ice cream sundae, chocolate fudge, whip cream and a side of Thailand's traditional fried banana balls with crisp batter. Comforting, tropical flavors with lively sweetness.
7. Apple Pie with ice cream/ พายแอปเปิ้ล ไอศกรีม
Warm, home-made apple pie, ice cream and a drizzle of chocolate syrup. A taste of home away from home. A western classic to end the meal on a high note.
Take your newfound love for Thai food back home with our personalized cooking classes. A hands-on experience where you'll get a glance at the art of balancing sweet and spicy, you'll understand the importance of fruit ripeness. Most importantly you'll have a good time with friends and family.
Whether you're in search for new exciting flavors or yearn dishes from back home, our professional kitchen team and our dedicated service staff are here to offer you a wonderful experience.
We're open for breakfast too! And we welcome walk-ins, so, have a fulfilling breakfast before visiting the Erawan Waterfall, The Death Railway, Chamchuri, or Giant Rain Tree, Hellfire Pass Memorial Museum, War Cemetery, Krasae Cave, and of course The Bridge over the River Kwai.
Welcome to the Good Times Resort, Welcome to Thailand!
good times restaurant_francosalzillo
7 must eat food when you are in Kanchananburi, Thailand​
"Visiting Thailand should be on everyone's bucket list. The country always ranks in top ten traveling destination lists and receives close to 30 million visitors every year. The landscape, the climate, the culture and the warmth of its people are major reasons to tour the country.
For many, it's the food what causes their heart to melt. Thailand is proud of its cuisine; food merchants pebble the streets from early morning to late at night. The markets display colorful ingredients and produce from the region, some well-known, and some you've never seen before. Flavors can be familiar or entirely new, but we're sure about one thing: There's something for everybody, and you'll love it.
Before packing your bags and booking your plane ticket, there are five things you need to know about Thai food:
1 Thai cuisine is flavorful, fresh and always unexpected. Noodles, curries, fish dishes, sweet and sour flavors, exotic spices, it's all there. Not two plates are the same, and the variety is endless. You can see influence of both Chinese and Indian food throughout the country, but Thai dishes sing their own song.
2 Thai food is regional. You can find yourself falling in love with a fantastic dish from up north, but as you travel south, you'll see less and less of it. Local, fresh ingredients are the base of every recipe, so communities have their own specialties and unique flavors. No worries, you'll find a new dish to love in every stop.
3 Thai food is not always spicy. Thai cuisine has that reputation, but actually, there are many dishes equally traditional, that are not spicy at all. It's also worth mention that many spicy dishes are a little bit sweet too. Thai cooks know how to balance spiciness and sweetness, so they carefully craft every bite to enhance its deliciousness. It's all about the pleasure, not the pain.
4 Food in Thailand tastes nothing like your Thai restaurant back home. It's not that they don't try, but the key ingredients are almost never available in the western world. All the special kinds of curry pastes, tamarind, aromatics, and greens make the dish. The quality and freshness of the ingredients are essential for a good Thai restaurant, and the best ones can only be found in the source.
5 Fancy and expensive restaurants are not automatically better than cheap sidewalk diners. You can eat in Thailand as cheaply or as costly as you want. And the quality is not measured in bahts. A few sidewalk restaurants have even earned a Michelin star, the highest distinction for good food in the world. Many high-end restaurants tend to focus on blander, friendlier food for tourists and don't accurately portray true Thai food.
For a great, authentic food experience, for breakfast, lunch or dinner, our own Good Times Restaurant offers traditional Thai food as well as high-quality western dishes. The food is excellent, but the scenery unmatched.
Our restaurant is situated on the shores of the River Kwai, at Kanchanaburi. It's a three-hour drive from Bangkok. The river itself is beautiful, but it's most famous for its strategic military position during WWII. The steel forged bridge, made famous in movies, is a landmark not to be missed and brings travelers from all over the world. Everyone comes to see the bridge, they stay for the food.
Here are seven dishes you have to try at our spectacular location.
1. Chicken Satay / ไก่สะเต๊ะ
Tender and flavorful chicken meat on a bamboo skewer. Chicken is massaged in our own turmeric based secret sauce and grilled. Satay is served with peanut sauce, ajaad (pickled cucumbers) and bread. A great starter or dish to share."
​